A few midweek thoughts on the Elite League:
"If in doubt, we'll pick a Brit, lads. If not in doubt, we'll still pick a Brit anyway":

The first Elite League Player Of the Week award has been given out, and, like most things the Elite League do, it's caused a little debate. Coventry Blaze's Sam Smith gets the award for three assists over the weekend in the Blaze's two wins over Dundee and Fife. A good performance indeed, and fair play to Sam for being selected.
However, I can't work out the thinking of the EIHL (I know, it's a novelty for this to be the case). Cardiff's Mac Faulkner gets a natural hat-trick against Sheffield on Sunday, assists twice the night before in a Devils win IN Sheffield, scores a penalty shot and still doesn't get considered.
In EIHL maths, a five-point weekend is seemingly less impressive than a three-point weekend.
The award has been greeted with confusion by many, with Devils fans (naturally) sticking up for their guy, neutral fans around the league going "um…did the awards people actually SEE the games this weekend" and even Blaze fans going "hm. That's something of a surprise".
Sam Smith was impressive on Sunday night at the Skydome, landing several big hits, assisting on two goals and generally being a valuable asset to the club on the ice. He had a very good weekend and will doubtless be in the running for many POTW awards this season.
But again, EIHL stats people-FIVE POINTS AND A NATURAL HAT-TRICK. Sometimes, the decision is almost too easy to not mess up.
Or at least it should have been.
"And here we see the first piece of the Blaze 2012/13 clothing collection…what every well-dressed fan is wearing".
Presented without any comment, this is British hockey moving into high-fashion…a must-own for fans of big no-nonsense d-men everywhere: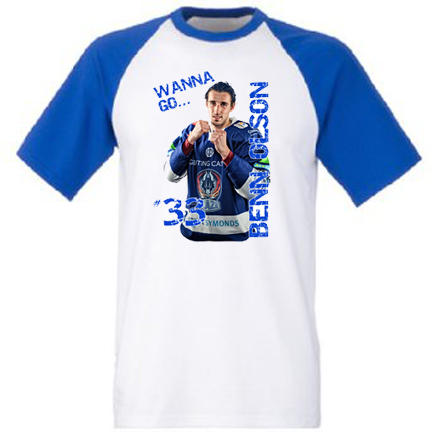 Nice. Personally I'd have put a question-mark and quotation marks on the "wanna go?" but there you are.
What d'you reckon?
(you can tell it's been a fairly slow news week so far, aside from Steven Chalmers signing full-time as expected. Mike Danton has tweeted that he's expecting to hear from the UKBA any day now on his visa appeal, so let us hope for a good outcome. Good luck, sir).