Last night saw the start of something that could be massive in European hockey. A competition that will, eventually, find a team who have the right, at least temporarily, to call themselves the "best hockey team in Europe".
Yes, there will be talk that any Euro-wide competition that doesn't involve KHL teams can't be considered the "top tier". There'll also likely be confusion among those not familiar with European sport and Europe-wide competitions as to how one can have a "Champions' Hockey League" with 44 teams, many of whom weren't close to being champions in their respective leagues last season.
But let's look at what the organisers of the CHL and its founding teams have already achieved. They've managed to create the first "Europe-wide" competition that will genuinely have as its mission the attempt to find the "best team in Europe". 44 teams from 12 European leagues will start the group stages, before 16 (11 group winners, five best runners-up) go through to the elimination stages in November. This is a competition on a scale that's rarely been seen in Europe-and teams will have the chance to qualify as national champions year in, year out. It's a genuine attempt to do something special in European hockey-and while attempts for such things as the "Champions' Trophy" have been seen before, this is the first time it's been done on this scale.
Last night saw all the talking and hype stop and the action begin, as 15 games across Europe filled the kind of slate that European hockey fans would gorge upon…storied names like Frolunda, Farjestad and Djurgarden (Sweden), Sparta Praha (Czech Republic), HIFK (Finland) and SC Bern (Switzerland) all went into battle last night for the honour of their respective leagues-and the first night of action didn't disappoint.
Performance of the night was Tappara Tampere (FIN) going 3-0 down to Stavanger (Norway) after 8 minutes and coming back to win 7-3, including the equalising and go-ahead goals 7 seconds apart at the end of the second. Ocelari Trinec of the Czech Republic were the dominant squad of the night, thumping Bern 7-0 in a rout that also contained the goal of the night-this between the legs beauty from Marek Troncinsky:
Just in case that's too quick, there's photographic proof Troncinsky went full through-the-legs on Bern's netty: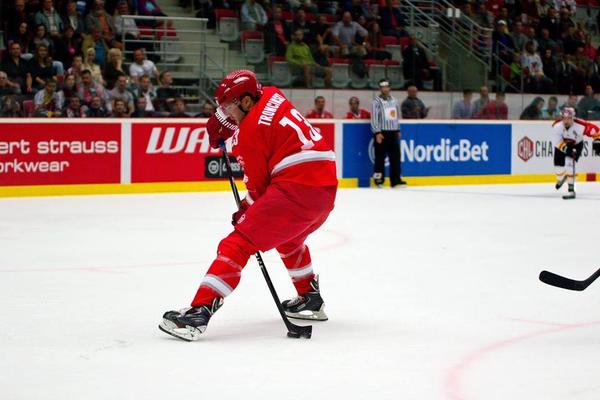 That GIF and picture is the kind of hockey that you can expect from the top leagues and teams in Europe taking part in the CHL on a semi-regular basis…along with close games…three on the first night went into OT and penalties and there were some great comebacks around the matches as well.
So-why does this matter? Well, if you're British or interested in hockey firsts, it matters because the Nottingham Panthers are representing the UK EIHL, and it's the first time that UK club hockey has really been given a chance at the "top table" of Euro hockey, particularly in the EIHL era. UK hockey fans, for all the skill level of the EIHL, just don't get to see the level of hockey that the CHL will provide, and now there's a chance to see at least three games' worth of it on UK ice. The Panthers are fulfilling an important task in trailblazing the way for British hockey to be taken more seriously in European circles than it has been in many years (due in the past to a laundry list of problems like lazy PR, unscrupulous owners, dodgy deals and comedy decisions almost as long as the CHL entry list)…but a decent showing from the Nottingham club could benefit all UK hockey massively, even if they lose the majority of their games. For that reason, British hockey fandom needs to get behind Nottingham wholeheartedly.
But what about if you're not European? Why should you watch it?
Simply put, because this is some of the cream of European hockey action. There are some in North America who think big-time hockey stops whenever you hit an ocean while travelling in any direction from NA, but it really doesn't. The CHL gives you a chance to see those European NHL prospects you'd not normally be able to track-like Boston's Anton Blidh in Frolunda, for example. It also could allow you to spot the next great Euro wonderkid (names like Karpat Oulu's 16-year-old Finnish prodigy Jesse Puljujarvi, for example)…and assess them playing against bigger, experienced players rather than under the usual "junior tournament" conditions.
Then, of course, you get to experience a completely different type of atmosphere. As someone who's stood in the middle of crowds in the 20,000-seat Lanxess Arena (Koelner Haie) and experienced the cauldron of the Helsinki Derby (HIFK v Jokerit) in the Helsingin Jaahaali, I can testify…European hockey crowds are an experience everyone should have…and the Champions' Hockey League will be showcasing some of the best hockey arenas in Europe, as well as a few you might not even be aware of.
Then there's the potential for magic, wherever you are as a hockey fan. Seriously…watch that GIF of Marek Troncinsky's goal a few times and tell me that the potential for someone pulling that in EVERY GAME doesn't excite you? Comebacks, drama, rivalries…they're all here, particularly as we get towards the KO stages and there's the potential for teams in the same league to meet in European playoff competition.
The CHL is European hockey at its very best. And for that reason alone, it deserves to be watched.
This is something special. If you've restricted yourself to your own little part of the hockey universe before, or think that the best hockey is only to be found in North American leagues, the Olympics or World Championships, think again and watch a game or two.
Europe, as the CHL slogan says, has come to play. And you'd be made to miss out on the chance to see it, wherever you are.